Discover more from The Jungle Gym
Join 12,000+ readers for monthly ideas about career strategy, learning, and work-life integration.
Over 12,000 subscribers
A Primer on Stakeholder Management
💌 The Roundup // 009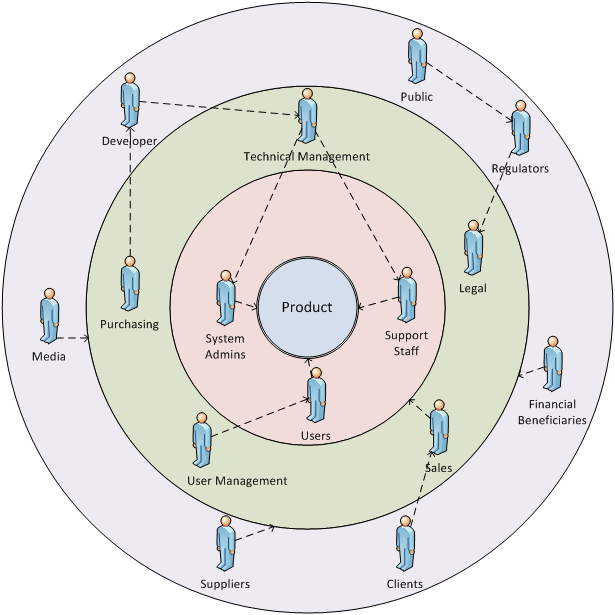 The Jungle Gym is a monthly newsletter full of ideas and resources to help you think clearer and work smarter.
🤝 When I meet great people, I often add them to this list to make it easier to stay in touch. If, for any reason, you'd prefer not to receive future issues, don't hesitate to hit the unsubscribe button below.
🔍 If you're not getting this email consistently, try checking your spam folder and marking this address as 'not spam.' If the newsletter isn't there, check your Promotions tab.
💌 If you're enjoying what you're reading, spread the word via email or Twitter.
📝 And, if you aren't yet a subscriber and want to sign up for future issues, just enter your email:
---
A Primer on Stakeholder Management
A few years ago, my wife and I decided to renovate our roof deck. According to our contractor, the project was supposed to be a straight-forward six-month remodel. What we didn't know was how many parties would have an interest in holding up our progress. All told, the project ended up taking over two years and costing much more than we expected. The lesson I took away from the ordeal was the importance of actively managing any party who can impact the outcome of your work.
This discipline turns out to have a name– stakeholder management. It's a well-defined process that experienced project managers use to identify and manage the individuals or groups who may have an interest in influencing their work. Those who do it well can avoid getting blindsided by problems that derail their process.
This post will explain how you can use the principles of stakeholder management in your own life to ensure your work goes much smoother.
But first, what exactly is a stakeholder?
Stakeholders are individuals or groups of people who have an interest in affecting your work. Their desires to intervene often stem from a perception that your work will impact their lives in some meaningful way. A stakeholder who believes they may benefit from your work may decide to support it, while one who perceives a threat may attempt to block your efforts.
Stakeholders who depend on the output of your activities are known as claimants, whereas those who control the inputs you need are called influencers. A single stakeholder can be both a claimant and an influencer in the context of a single project. For example, your manager might depend on the findings of your research project to make decisions, while you may depend on the budget she supplies to conduct that research.
At your job, you interact with internal stakeholders who work within your organization (like coworkers), as well as external stakeholders who work outside the org (like customers, partners, journalists, etc). Both individuals and groups of people can be considered stakeholders and can have stakeholders of their own.
Stakeholder Analysis
In order to manage the interests of the various stakeholders in your environment, you first need to identify them and make a plan for how to keep them satisfied. These initial steps are known as stakeholder analysis. While this step appears simple, it's also essential to get right as forgotten stakeholders are often the ones who can cause the biggest problems for a project.
Information about these stakeholders typically gets assembled into a document called a stakeholder register, which helps the whole team keep track of the parties they need to manage.
To create a stakeholder register for yourself, start with a personal or professional project that you're currently working on and ask yourself the following questions:
To accomplish the objectives of this project, who am I depending on for...
The information I need?

The budget I need?

The tools and materials I need?

Their time and abilities?
It's also worth asking...
Who will I need approval from for major decisions?

Who is depending on access to the output of my work?

Who will judge the quality of my output?

Which individuals or groups are competing directly for the resources I need?
Record the name of each stakeholder you identify into a spreadsheet.
While it may be tempting to stop once you've surfaced all the obvious stakeholders, it's worth pushing further. It's often the stakeholders who don't come quickly to mind that end up causing the most problems. For example, when my wife and I were renovating our roof deck we had planned to handle our contractor, architect, SF's permitting department, city inspectors, HOA, and even our next-door neighbors. Yet somehow, we failed to recognize that the downstairs tenants would have the ability to completely block our proposal. Particularly if your project has an important outcome, it's worth taking a second pass at your list to make sure you haven't missed anyone.
Enriching your stakeholder profiles
Not all stakeholders have an equal ability to impact your work, so it's worth gathering extra information to determine which stakeholders to focus on. For each stakeholder in your spreadsheet, add the following data points:
Stakeholder type – Is this an individual or a group of some kind?

Relationship type – How would you characterize your relationship with this person or group? It can be personal, professional, or both.

Relationship direction – Within the hierarchy of the organization, is this person above you, below you, at a similar level, or external to the organization?

Degree of support – Is this stakeholder in support of your work on this project, neutral or resistant?

Assets you need from them – which assets (budget, information, etc.) do you need from this stakeholder?

Assets they need from you – which assets does this stakeholder need from you?
Once you have these data points, you should have the info you need to plot them on this 2x2 graph of power and interest: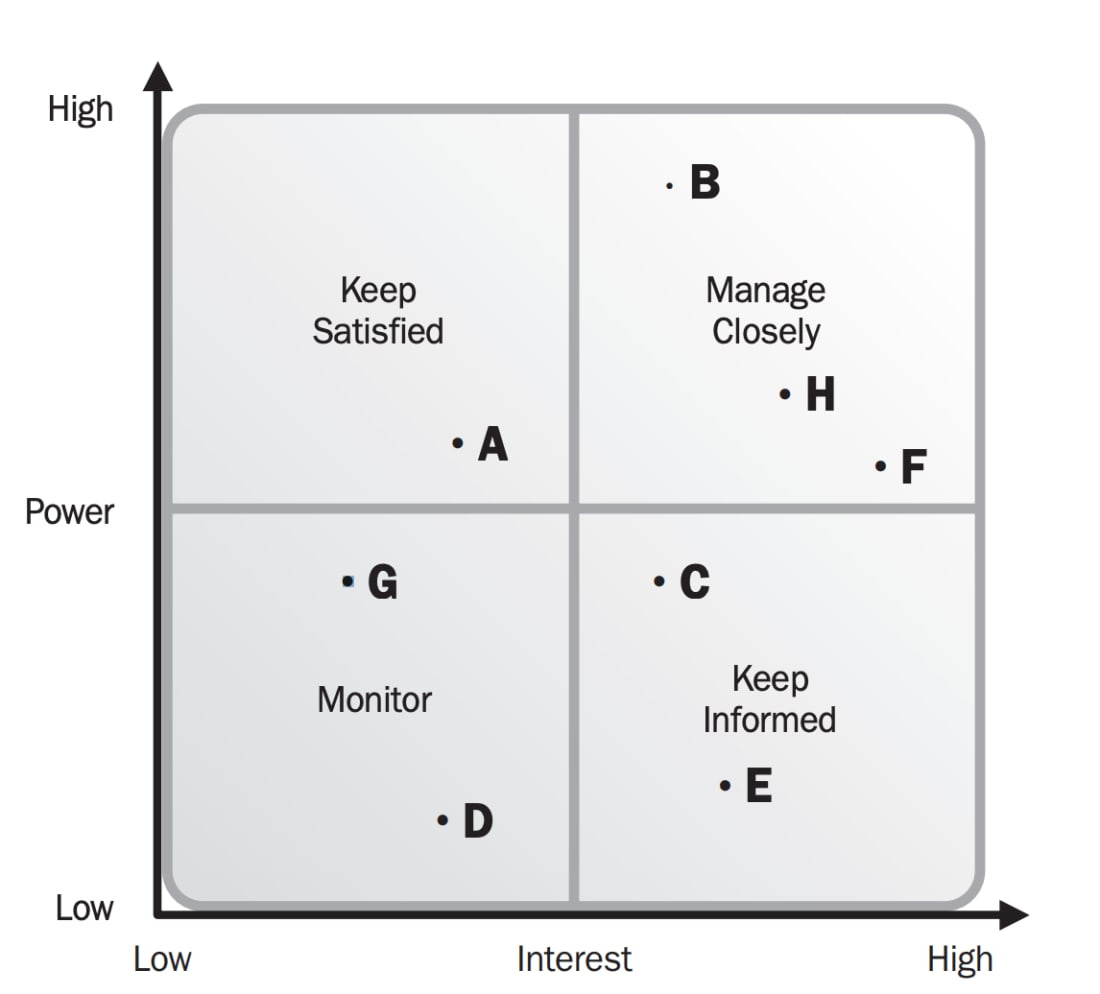 In the context of this graph, power refers to a stakeholder's ability to impact your work. This often has to do with the importance of the assets they possess to the success of your project. A stakeholder's interest should indicate how likely they are to try to impact your project. This often has to do with what's at stake for them.
As you plot the power/interest of each of your stakeholders, don't worry about being exact. By giving them a high, medium, or low score on both dimensions, you should have a sense of which stakeholders you will need to spend the most resources managing.
Craft a Management Plan
To get what you need from each of your stakeholders you'll likely need to give them something in return. For example, if you want to secure budget for your project, you may need to provide the Head of your department with a slide deck reporting on your progress. To get the design assets you want, you might need to give your contract designer a higher hourly rate.
Along with learning what other stakeholders want, you'll also need to understand how often they'll need to receive it. This will likely depend on how often you need something from them. For example, if you need your direct reports to complete a self-evaluation each quarter, then you may need to share performance evaluations with them on a similar cadence.
For each stakeholder you've identified, brainstorm what you'll need to give them to get what you want. If you're having trouble determining how to keep this stakeholder content, try learning more about their motivations and expectations through direct conversations or gathering information from others.
Next Steps
It's worth remembering that any stakeholders you identify may have an entirely different set of needs in the context of a different project. Whatever stakeholder management plan you put together should take into account a holistic view of your relationship with that person or group.
For any party that happens to be a stakeholder on more than one of your important projects, you'll want to prioritize building and maintaining trust and rapport. If you're noticing that you now have a lot of relationships to manage, you might try setting up periodic standing meetings with certain people or sending them automated reports. If you can be intentional about managing your important relationships, you're already miles ahead of most other professionals.
---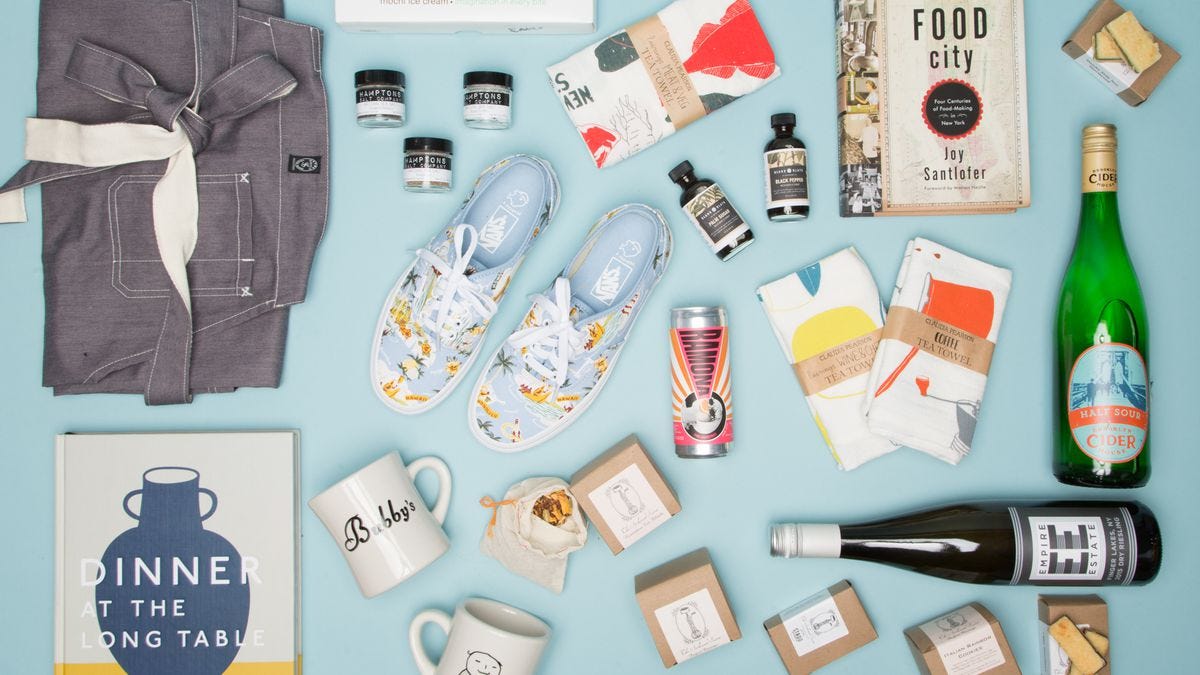 Useful Items: A Holiday Gift Guide 🎁
For ten months out of the year, I can't stand shopping, but as soon as I hear Christmas songs in the drugstore, the monster in me gets unleashed. You see, for the deWildes, Christmas gifting is a competitive sport. And, since most gift guides are terrible, I thought I'd make the one I wish I could find. 
To put together this list, I teamed up with my friend, Justin Mares, whose recommendations have turned me on to many of the things on this list (incidentally, Justin just launched a great newsletter on health, wellness, and brand-building that you should sign up for). 
Hopefully, you'll find a few things here for yourself or someone on your shopping list.
👕
Clothing & Accessories
Nick: When Justin first showed me these shoes, I was skeptical. At the time, I was hooked on All Birds, and these didn't seem particularly special. He got me a pair as a gift, and– as much as I hate to admit it, he was right– they are honestly one of the best pairs of shoes I've owned. Why?
They slip on and slip off like… slippers

You can wear them without socks (and they don't smell)

They're super light-weight and easy to pack

If they get dirty, you can just throw them in the washer
Trust me. Treat your feet and get yourself a pair of these babies.
Justin: If you're anything like me (not a "jewelry guy" but still like to have some accessories), you sometimes want to wear something on your wrists that isn't either (1) a watch or (2) doesn't make you look like a wannabe pickup artist. That's where these bracelets come in: small, unobtrusive, and can be a nice accessory for everyday wear. I wear one almost every day and just… like them. That's all. 
Nick: It's hard to find jeans that both look good and fit well. Paige's stretchy denim allows these jeans to do both. It's amazing– you can actually do lunges in them without worrying if they'll rip. 
Nick: There's a thin line between an obnoxious Hawaiian shirt and a classy short-sleeve button-down. Life After Denim typically does a good job skewing classy. Many of the best shirts I've collected over the years have come from them. Along with the pattern, I also prioritize the material of the fabric (which is why I no longer buy Bonobos, even though I like their look). Here are a couple of favorites from LAD's current collection: 
Justin: Basically, Italic sources from the same factories in China that make the luxury fashion pieces you see at Neiman Marcus and other high-end retailers (Fendi, Gucci, high fashion trash like this). But, instead of charging you $750 for a cashmere hoodie without a logo, they take a small markup on the same product you'd buy from a high-end label and sell it to you far cheaper. The cashmere joggers and hoodie I have are easily my most comfortable items of clothing, and what I now put on whenever I get home from work. 
Nick: I first spotted this backpack on a stranger who was riding my bus to work. After a few days of envy, I decided to creepily follow him until I got close enough to snap a picture of the logo. Since that day in 2013, Hershel has been my backpack of choice. I like how it looks on the outside, and I'm a fan of its assortment of pockets (particularly the top pocket, which offers easy access to your wallet or Airpods).
Nick: My wife (who is significantly more stylish) uses this backpack from ISM. I'm friends with the guy who created this bag, and he really managed to get the details right. For example, the bag has a pocket that perfectly fits a phone charger and a flat water bottle (that they sell separately).
If you're interested in buying their whole bundle, you can use this link to get $100 off.
Justin: My job requires I stare at a screen all day, which means that I often end work with a splitting headache. Fortunately, my headaches have gotten significantly better since I started wearing these (surprisingly attractive) blue light blocking glasses while working. I can't say that they've really improved my sleep, but it's helped end the mid-day headache feeling that slows me down in the afternoon. 
Nick: I'm notoriously bad at holding on to a pair of sunglasses. More than once, I've managed to lose a $150 pairs of Ray-Bans in less than a year. While I could buy a pair of gas station sunglasses, I often end up wanting to throw them away within a week. Knockarounds are a great compromise. They look good enough, and they cost exactly what a pair of sunglasses should. Somehow, I've also managed to hold onto my current pair for over two years.
Nick: If you want a great looking pair of swim trunks that won't punish you for eating a meal before getting in the pool, I'd recommend Chubbies. The patterns are crazy, the material is stretchy, and the inseam is short (as God intended).
🛋️
Home Goods
Nick: Every time my wife and I have new people over, without fail, they'll ask about our Nanoleaf lights. You can set up the triangle panels in whatever arrangement you want and tweak the color through their app to match the vibe you're trying to set. To get a flavor of what they're like in action, watch this video.
Justin: I love house plants: nothing is lower-commitment in adulthood than being a plant dad. Humans evolved to continually be around plants: they brighten up a room and just help chill me out. If you don't have a cool local spot to pick up plants, the Sill is the best place I've found.
Nick: Dinner parties are meant for circular tables. They let your guests see each other and make it easy to carry on a single conversation. When we decorated our place, we looked for the largest table we could fit through our door. This one from Restoration Hardware has been great and can comfortably fit a group of 10.
Nick: Everything Heath makes is simple and well designed. Unlike other dinnerware I've come across, it feels like it was made by humans. If you live in the Bay Area, I recommend stopping by one of their factory stores to get the full experience.
🧼
Personal Hygiene
Justin: Most natural deodorants suck. They clump, don't work, and smear all over the place. I almost thought about switching back to unnatural, aluminum-riddled deodorant (even though I know how awful it is for you) until I found Primally Pure. Their deodorant smells great, has ingredients clean enough to eat (though… I wouldn't), and are easily the most expensive sticks you can buy. What more could you want! 
Justin: I'm apparently addicted to all things activated charcoal, mostly because the stuff just works and doesn't have a bunch of shitty ingredients. Hello is no different - I found this product while staying at a bougie hotel in upstate NY, and immediately made fun of the name and product. Then I tried it, and have been a convert ever since. It works great, tastes minty fresh, and will absolutely make a mess of your white sink. Totes worth it.
Airgraft

($98, but the pods are expensive)
Justin: The Airgraft is probably the dopest thing I've come across this year: it's a slick-looking vape designed by a team of industrial designers that's also super health-conscious. Maybe you've read all about the terrible oils and ingredients in many vapes - you know, the stuff getting people sick (and apparently killing 6 people, though c'mon... cigarettes kill 430k people a year)? Yeah - the Airgraft has none of those. And it has an app that will tell you exactly how much THC, CBD, and CBN you're getting with each inhale... which is neat. 
🥫
Food & Beverage
Nick: I used to be a LaCroix devotee. Then I heard it might contain cockroach poison, so I got less excited about drinking three of them a day. That was about the time that my Seattle-based in-laws introduced me to Spindrift. Not only does it not contain insecticide (yay!), but it tastes 5x better than LaCroix since it's made with a small amount of real fruit juice. If you're still sipping on LaCroix, ditch it, and come to the promised land.
Justin: I love these chips. Since I've been trying to cut processed foods and gluten out of my diet, one of the things I've missed the most is the occasional crunchy snack. Siete chips are basically paleo Doritos, and their vegan cashew queso is incredible. I love these things to the point that I bring them to almost any party where I think I'll end up snacking.
Nick: How do I describe the amazingness that is Chile Crunch? It's a hot sauce, but it's crunchy. You can put it on eggs, burritos, pasta, or anything you want. It's always an improvement. One unfortunate thing I recently found out is that they use canola oil (which is not great for you). So I've curbed my intake and plan to try Trader Joe's knock off version that uses olive oil instead.
Justin: Have you ever opened a bottle of wine because you wanted just one glass, had it, and then the rest of the bottle goes bad? This seems to happen weekly at my house. So, rather than developing a drinking problem, I decided to buy Usual wines - wines shipped by the glass in cool, fancy lookin' bottles. Since the wine is organic, you get fewer hangovers and don't have to ingest any weird pesticides or poisons (that exist in literally every non-organic bottle of wine out there). 
Nick: Growing up, eating pork rinds was a sure signal that you were a slob. But that was before we learned what a disaster the nutrition pyramid is, and before pork rinds got rebranded to chicharrones. Thanks to emerging diets like keto and paleo, chicharrones have become the ideal crunchy low-carb snack-food, and 4505 makes the most delicious ones I've tried.
Nick: I'll be honest, when I first heard about CBD, I was pretty sure it was a scam to part millennials from their money. While that still may be the case, Dram has me sold on the category. These are great drinks to unwind after a long day. They taste great and contain a ton of seemingly healthy ingredients.
Justin: This is the best nut butter on the planet, end of story (disclosure - I started this company. But promise the product is amazing). It legit tastes like a PB&J, but without the carbs, vegetable oils, and sugars found in other nut butters. It uses 100% real ingredients, no fillers, and no added sugars - fantastic for guilt-free snacking. I like to drizzle some on whatever I'm eating, or just suck it right out of the hole in the top of the package. 
Beyond Meat Burger
Justin: Just kidding. Never buy this for someone you care about. 
There we go. Christmas shopping complete. You're welcome.
If you found this helpful, and want to return the favor, let us know what's on your holiday shopping list (since we just revealed all our secrets to anyone we might be buying gifts for).
Recommendations
Recommendations
(13-minute read)
As any hiring manager in Silicon Valley can attest, talented knowledge workers hold a lot of power in today's labor market. But that advantage may be shifting away from knowledge workers to the benefit of their employers.
"Knowledge" workers historically were paid for the combination of their knowledge and their work. In the future their knowledge will be centralized and standardized by companies, and while people might still be paid for their skill, it will be very hard for workers to own the knowledge they learned in school or accumulated on the job in any meaningful way.
According to Sam Lessin, this shift seems to be the result of tools that are making knowledge work processes easier to measure. This, in turn, will allow companies to compare and standardize processes that will make automation more effective.
(23-minute read)
Those who've known me for a while may be aware that over the last few years, I've been on something of a political vision quest. It started around the 2016 election, as I watched my own side get deranged by Donald Trump and double down on socialist policies and common-enemy identity politics. This led me to explore other schools of political thought like libertarianism and conservativism. To do this, I needed a medium where I wouldn't be caught cheating on my tribe.
Enter podcasts.
While I had always listened to podcasts, my diet had mostly consisted of highly produced shows like Radio Lab or This American Life.  The new shows I adopted like The Remnant, The Fifth Column, and Common Sense with Dan Carlin gave me a way to eavesdrop on novel ideas from a safe distance, while still keeping up appearances with friends.
The effect these podcasts have had on my worldview may explain why Alex Danco's post about the impact of audio on our society resonated with me so much. He identifies headphones connected to the internet as a powerful tool for anyone who wants to change his mind in secret. Danco also points out that audio is far better suited to the kind of bombastic messages that cause people to get upset about perceived enemies (like the illegal immigrants or the rich).
Ever since I read the post, I've been wondering how many people in my Uber pool are also changing their minds in secret.
(18-minute read)
One reason I started this newsletter was to create a forcing function to make me write more. I still don't think I've developed a great writing process, which is why I enjoyed getting an in-depth look at how Steph Smith does it. This post inspired me to try breaking my writing into pieces instead of vomiting it all out at once. I'll report back on how that goes.
(18-minute read)
Is Polyamory a more enlightened form of romance, or does it represent a threat to western civilization? For those who aren't familiar with this growing trend:
Polyamorous or open relationships are usually based on "consensual non-monogamy"—the idea that relationships can be loving, committed, and serious, without being sexually exclusive. It's a more libertarian approach to sexuality, in which people can negotiate custom relationships, like contracts between firms or treaties between countries, while still retaining some sexual sovereignty and freedom of mate choice. Polyamory takes freedom of association seriously—not just in social and political life, but in the sexual realm. If you can choose to have more than one child, more than one friend, and more than one work colleague, you should be free to choose more than one sexual partner.
While only 4-5% of all adults are currently in open or poly relationships, this number seems to be growing.
One challenge that the author highlighted for those in polyamorous relationships is the community's lack of good role models, social norms, and sexual scripts.
Polyamory is almost invisible in mainstream media, and the few reality TV shows about polyamory play up the "poly drama" rather than exemplifying good relationship skills. Also, too many poly advocates do so much progressive virtue-signaling that they're not seen as credible spokespeople by mainstream folks. Most doctors, therapists and mental health professionals are ignorant about poly, and many are biased against poly relationships, so aren't much help to poly people seeking guidance.
As the poly community matures, it will be interesting to see whether they can build the necessary institutions to compete with the societal contributions of monogamy.
(5-minute read)
As we've covered in previous issues, emerging nano- and bio-technologies will make it easier for individual criminals to wreak havoc over an increasingly larger number of victims. Computer scientist, Stuart Russell shares a salient example:
A very, very small quadcopter, one inch in diameter can carry a one- or two-gram shaped charge. You can order them from a drone manufacturer in China. You can program the code to say: "Here are thousands of photographs of the kinds of things I want to target." A one-gram shaped charge can punch a hole in nine millimeters of steel, so presumably you can also punch a hole in someone's head. You can fit about three million of those in a semi-tractor-trailer. You can drive up I-95 with three trucks and have 10 million weapons attacking New York City. They don't have to be very effective, only 5 or 10% of them have to find the target.

There will be manufacturers producing millions of these weapons that people will be able to buy just like you can buy guns now, except millions of guns don't matter unless you have a million soldiers. You need only three guys to write the program and launch them. So you can just imagine that in many parts of the world humans will be hunted. They will be cowering underground in shelters and devising techniques so that they don't get detected. This is the ever-present cloud of lethal autonomous weapons.

They could be here in two to three years.
Will this type of omniviolence make the social contract between citizens and the state obsolete? It will probably depend on whether states can protect their citizens from this type of attack. Given the challenges of detecting a lone-wolf attack, prevention will likely necessitate the kind of monitoring and surveillance used by governments like China's. Will freedom-loving Americans consent to this same type of tradeoff? It's hard to imagine. But this choice may come sooner than we expect.
(8-minute read)
The information age has provided consumers with a bounty of content covering every conceivable topic. This explosion has been enabled by an emerging set of tools and platforms that have allowed creators to easily make and monetize content in a variety of formats.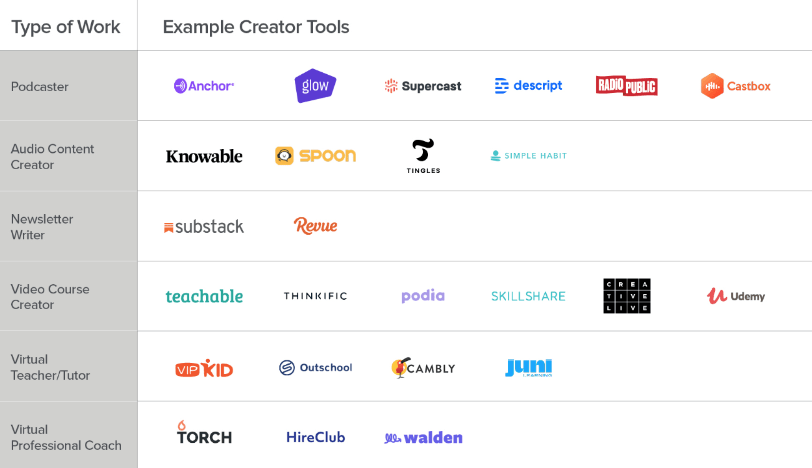 The impact of automation is worrisome; however, it may be the key to unlocking a great deal of human creativity by freeing people up to pursue their passions.
Community
Shoutouts
*Header image credit: Brandon Bird