What kind of work ethic does it take to build a successful career?
💌 The Roundup // 010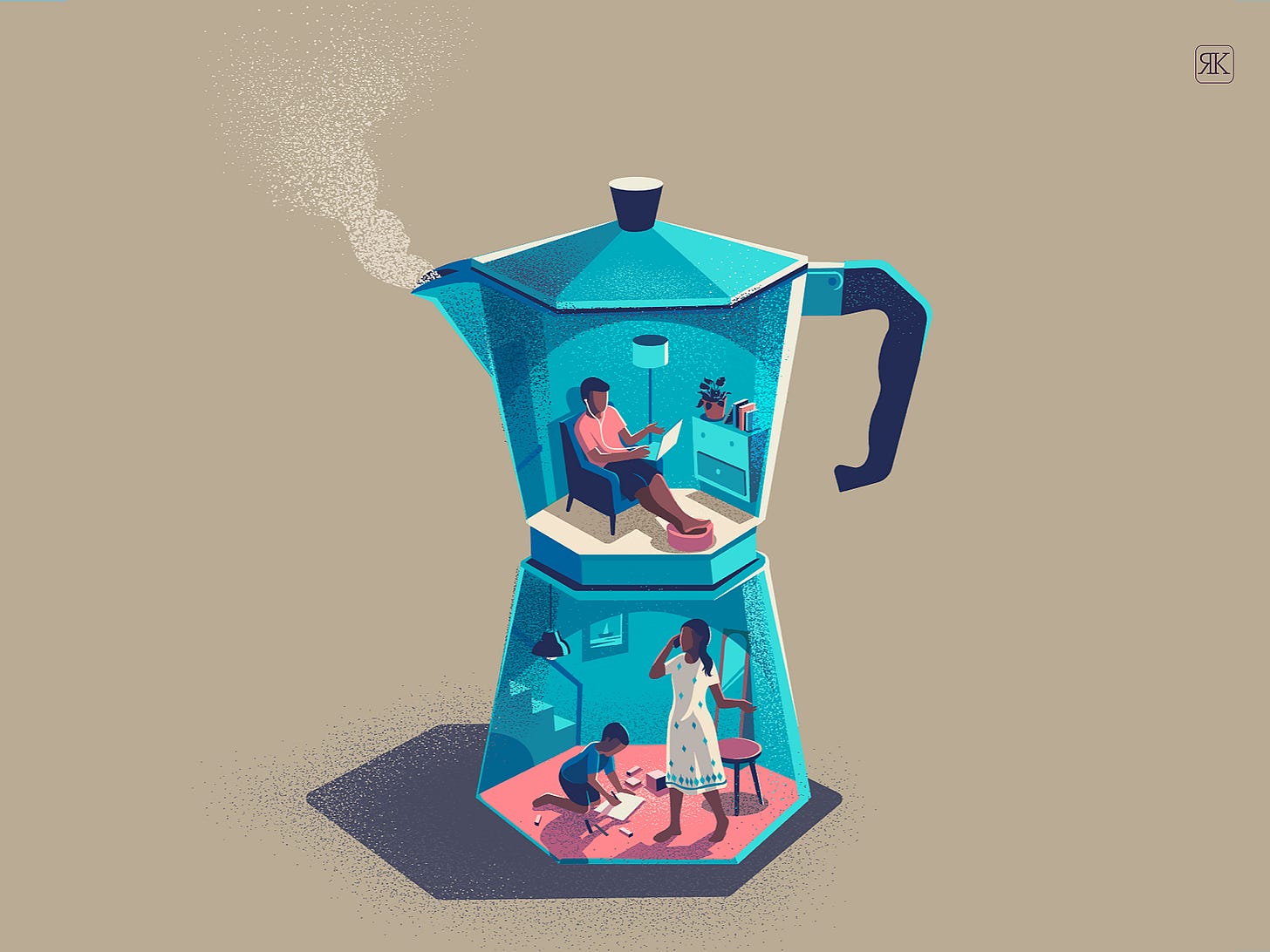 The Jungle Gym is a monthly newsletter full of ideas and resources to help you think clearer and work smarter.
🤝 When I meet great people, I often add them to this list to make it easier to stay in touch. If, for any reason, you'd prefer not to receive future issues, don't hesitate to hit the unsubscribe button below.
🔍 If you're not getting this email consistently, try checking your spam folder and marking this address as 'not spam.' If the newsletter isn't there, check your Promotions tab.
💌 If you're enjoying what you're reading, spread the word via email or Twitter.
📝 And, if you aren't yet a subscriber and want to sign up for future issues, just enter your email:
---
Dear Friends,
I was all set to write you a nice post about how to ask for a raise. That was until, over the holidays, tech-Twitter reignited everyone's favorite debate over what kind of work ethic it takes to build a successful career.
Dunks were made. Thought leaders were ratio'd. And Blue Checkmarks collectively wasted lots of time.
I've learned my lesson to stay out of public culture spats, but that doesn't mean I'm not itching to weigh in on this topic.
How you spend your own time will have a big impact on your personal satisfaction. In aggregate, the time our society allocates to work versus leisure has a significant effect on the success of our economy and culture. So, while I'm not a fan of the way this debate is framed, I think it's an important one to have. 
As a starting point, perhaps we can agree that finding meaningful work is a worthwhile endeavor. Most of us spend half of our waking hours at work, which amounts to about 80-90 thousand hours over a lifetime. The output of that time, including the money, relationships, and energy we derive, impacts our ability to enjoy the remaining hours of our waking life. Given the irreplaceable nature of time, we should all seek work that is (at the very least) engaging, if not truly meaningful.
Unfortunately, engaging work is hard to find. According to a 2018 Gallup poll, only 34% of employees feel engaged with their work. Part of this could be solved by better matching between candidates and roles; however, I suspect that many jobs are inherently unmotivating. In his 2009 book, Drive, author Dan Pink cites research that highlights the keys to feeling motivated at work:
Autonomy – the ability to control what you work on, where and when you put in time, and who you collaborate with

Mastery – the drive to keep improving at something you care about

Purpose – the sense that your actions are impacting the world in a meaningful and positive way
Jobs that meet all these criteria and provide adequate compensation are rare and valuable. To land one, you'll need to stand out from other qualified candidates by cultivating valuable skills, knowledge, and attributes of your own to offer in return. Even if there isn't a hiring manager standing in the way of your dream job, you'll still need to compete to convince customers and investors to part with enough money to pay your salary. So, what does it take to build the kind of competitive advantage that will help you stand out from the competition?
The answer, in part, is time. To build a competitive advantage, you'll need to invest hours into honing your craft. These hours will go toward researching, practicing new techniques, and gaining experience. Unlike other parts of your job, these learning activities can't be delegated to anyone else or automated through better tooling. You'll need to put in the time yourself to get the benefit.
In an ideal world, the hours you devote to your typical job responsibilities would also help you progress toward your career goals. Unfortunately, when you're just beginning the path to mastery, it's hard to land a role that lets you spend time on activities that perfectly align with your learning goals. That's what makes your nights and weekends so precious.
During your off-hours, you get to direct your learning. You get to work on building whatever skills or knowledge you need without worrying about being scolded by your manager. Hopefully, you're spending those hours on activities that inherently motivate you and don't feel like drudgery. If that's not the case, it's worth re-examining whether you're on the right career path.
What I'm not saying is that you should work long hours for the sole purpose of pleasing your boss. Indeed, some jobs necessitate this and are worth keeping. Still, the reason it makes sense to spend nights and weekends in your twenties working to build your competitive advantage is so you can escape these unmotivating roles and their arbitrary rules.
Can this be taken too far? Of course. If you neglect meaningful relationships during your twenties, they may not be there when you need them in your thirties. Your physical and mental health are also essential to maintain. Even if you are only attempting to optimize your learning, skipping out on sleeping, exercising, and eating well may strip you of the motivation you need to make the most of your learning hours.
I realize this question, like any other that incites this level of emotion, has a political angle. In general, the left believes that telling underprivileged people to work long hours in an economy where the deck is stacked against them is immoral. They see those who encourage hard work as downplaying the role of unearned privilege in their success.
Meanwhile, the right often argues that advising underprivileged people not to put in long hours strips them of their best tool for social mobility. They view those who discourage hard work as attempting to downplay the impact of their work ethic (or their parents') on the success they've achieved. 
My own view is that most people who end up successful start out with some significant advantages. Some of these advantages, like an attractive face or a high IQ, are baked into their DNA. Others are instilled by their early environments like high-income parents or a tight-knit community-oriented upbringing. That said, one of the most valuable advantages a person can cultivate, whether by nature or nurture, is a strong work ethic. Without it, other advantages can easily be squandered.
To test this, imagine funding income-share agreements for a bunch of college students out of your bank account. In an attempt to get a high return, I suspect most people would heavily weight work ethic when selecting who to support. While there are many ways to measure work ethic, the number of hours someone spends working and learning is a pretty damn good proxy.
I understand why people get up in arms about this topic. Often when people post on social media about the long hours they put in, it feels like performative hustle. But that doesn't mean it's a bad strategy to spend nights and weekends in your twenties working. The critical distinction is that instead of spending those hours pleasing the crappy manager at the job you hate, invest your time to build a competitive advantage that will lead to the kind of job where the hours you put in don't feel like work.
---
Recommendations
(16-minute read from Jeremiah)
One of the best books I read last year was Neil Postman's 1985 critique of television, Amusing Ourselves to Death. The book presciently argues that rather than worrying ourselves with George Orwell's vision of an oppressive government limiting our access to information, our society ought to be concerned about Aldous Huxley's warning that we would get addicted to trivial information and lose interest in seeking wisdom.
Like the author of this post, I finished the book wondering how Postman might have viewed our modern media consumption habits. It's hard to imagine him approving of social media and the type of content it tends to promote. But what would he have said about Podcasts, email newsletters, or YouTube? Given the proliferation of new content and consumption formats, I wish we had Postman's perspective on our current situation.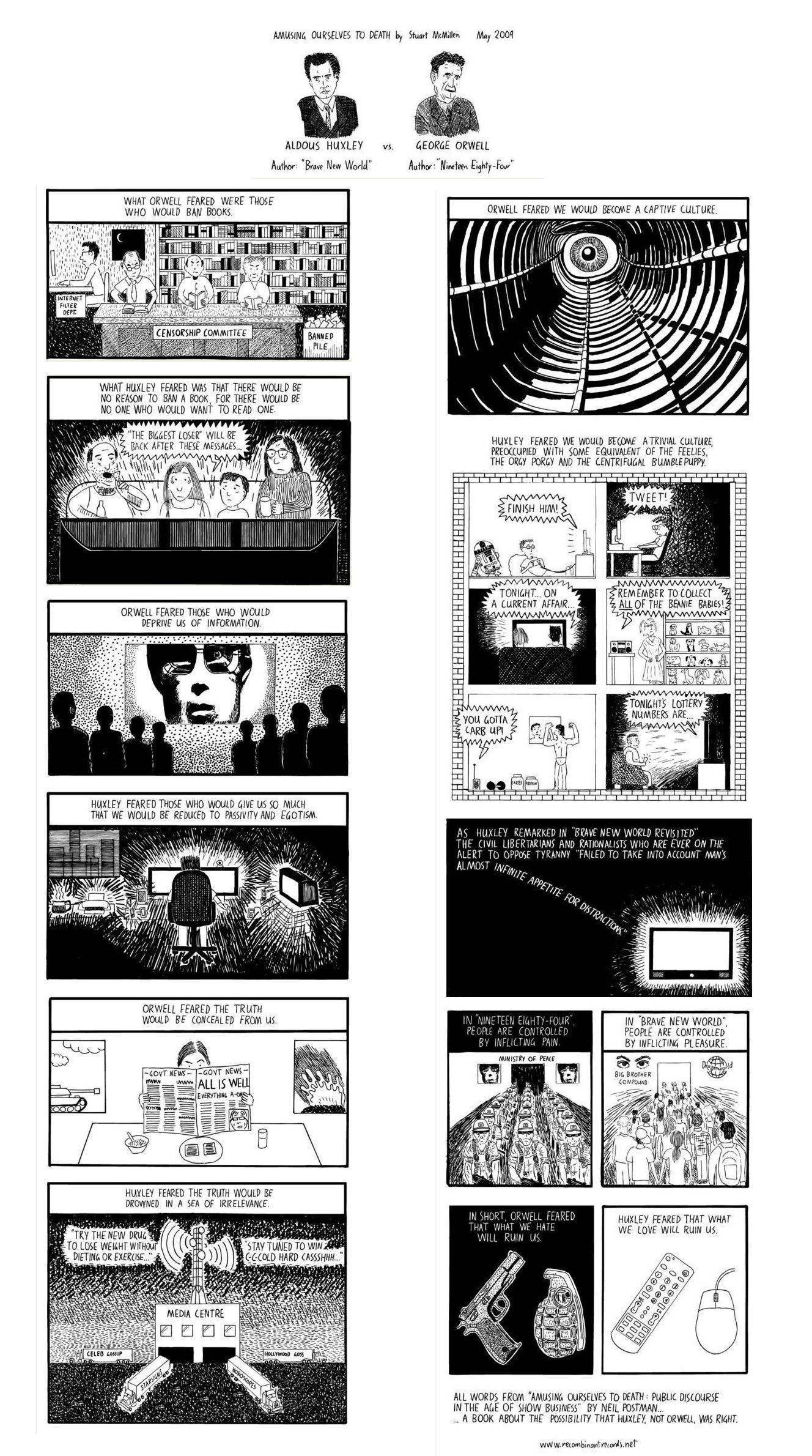 (6-minute read from Tanner Christensen)
In 1968, Dr. Laurence J. Peter wrote The Peter Principle, which argued that workers tend to receive promotions until they plateau at their "level of incompetence." The tendency for employees to accept positions that don't match their strengths is partially motivated by their desire to gain (or avoid losing) status in the eyes of their colleagues. Individual contributors are particularly susceptible to this when presented with the opportunity for management responsibility. While an employee may prefer maker activities over manager ones, she worries what her peers will think if she never gets promoted into management. And this is how rockstar individual-contributors become mediocre managers.
While, of course, I believe employees can develop into new roles, I also think companies benefit when employees stick to career tracks that match their strengths. This post highlights a few ways companies can incentivize this behavior. While the post primarily concerns design careers, the ideas apply well to other functions and industries.
(11-minute read from Alex Danco)
This post delivers one of the best explanations I've read about the social dynamics of early-stage startup investing. It explains why, despite the geographic ubiquity of startups and angel investors, it is still a smart move to fundraise in a city with a strong network effect like San Francisco.
From the outside, angel investing may look like it's motivated simply by money. But there's more to it than that. To insiders, it's more about your role and reputation within the community than it is about the money. The real motivator isn't greed, it's social standing – just like a century ago, with the original Angels who financed Broadway shows. Angel investing is how you stay relevant. It's how you keep getting invited to things. It's how you matter. Angel investing isn't about getting something, it's about being someone. 
(8-minute read from Scott Alexander)
These days, it's hard to bring up the topic of meritocracy without eliciting groans and eye-rolls from your conversation partner. I suspect our society's souring on the idea has a lot to do with the recent college admissions scandals, which revealed how unmeritocratic these universities truly are.
Many critiques of meritocracy revolve around the unfairness of rewarding those who won the lottery of birth with scarce resources. While it's true that a great deal of merit is unearned, fairness is not the goal of meritocracy:
The intuition behind meritocracy is this: if your life depends on a difficult surgery, would you prefer the hospital hire a surgeon who aced medical school, or a surgeon who had to complete remedial training to barely scrape by with a C-? If you prefer the former, you're a meritocrat with respect to surgeons. Generalize a little, and you have the argument for being a meritocrat everywhere else.

The Federal Reserve making good versus bad decisions can be the difference between an economic boom or a recession, and ten million workers getting raises or getting laid off. When you've got that much riding on a decision, you want the best decision-maker possible – that is, you want to choose the head of the Federal Reserve based on merit.

This has nothing to do with fairness, desserts, or anything else. If some rich parents pay for their unborn kid to have experimental gene therapy that makes him a superhumanly-brilliant economist, and it works, and through no credit of his own he becomes a superhumanly-brilliant economist – then I want that kid in charge of the Federal Reserve. And if you care about saving ten million people's jobs, you do too.
The real problem with meritocracy is the human gatekeepers in charge of upholding it. Most gatekeepers are neither equipped nor incentivized to select those with the most merit. Hiring managers choose candidates who will make them look good over the ones most qualified for the role. To accomplish this, they lean on signals provided by prestigious institutions as a proxy of merit or select a candidate with a less intimidating level of talent. 
Despite meritocracy's flaws, it's still the best system available to effectively leverage humanity's collective talents. We owe it to ourselves and future generations to not give up on it and instead attempt to become better stewards of meritocracy, so we can all reap its benefits.
(15-minute read from Trae Stephens)
Across the Valley, tech workers are protesting their employers' decisions to do business with the US Military. But do these employees hold the ethical high-ground?
Investor Trae Stephens argues that if the tech industry cannot find a way to work with the military, the US will lose ground to authoritarian regimes who have demonstrated a willingness to annex territories and suppress free expression. The consequences of allowing these governments to control the next generation of warfare technology are likely to be dire:
If we allow others to build these technologies while we stand idle, we will lose the power to regulate their use, we will allow aggressive autocratic regimes to take the lead, we will voluntarily limit our power to deter harmful conduct (including genocide, repression, and interference with international norms), and we will cede to the most belligerent and authoritarian states the power to impose insidious legal and moral standards on the US and its allies without consequence.
Hopefully, this post, and others like it, will be the start of a much-needed perspective shift in the tech industry.
(32-minute read by Tony Tulathimutte)
My creative writing teacher once said the best fiction reveals truths the reader is too embarrassed to admit. This story laid bear many familiar relationship insecurities from my teenage years. Given the responses I've received from friends, it seems I'm not the only one. As a warning, this story is bleak. But, the less I editorialize, the better. Just give it a read.
(15-minute read from ChevalMalFet)
By most measures, South Korea's education system is one of the best in the world. Despite spending fewer dollars per pupil than the US, South Korean students outperform their American counterparts on most measures. This post, from someone who's taught in both systems, attempts to explain the reason for the disparities and questions whether the Korean education system is truly superior.
According to the author, many of the differences are cultural. While American children are instilled with a sense of individualism, Korea's hierarchical culture ensures children respect parents and teachers, granting adults a greater ability to influence student behavior. Educational attainment is also a universal status marker in Korean culture, in a way that only exists in certain pockets of the US. All of this means that Korean students are much more inclined to comply with the expectations of the country's education system.
These cultural differences make the stakes for testing in Korea particularly high. Every November, the CSAT is administered to a new crop of students whose futures are determined by the outcome. To get one of the limited spots at a top university, students must obtain a near-perfect score. Students who fail to make the cut are not only looked down upon by future employers but are seen as disappointments by their friends and family. To avoid this humiliation, Korean parents spend a lot of money on private tutors and prestigious after-school programs. This goes a long way to explain why Korean students perform so well on standardized tests. The question of whether this emphasis on testing leads to better economic outcomes or smarter citizens is certainly debatable.
(16-minute read from Paul Graham)
Related to the story above, education systems that optimize for test performance do a disservice to their students. This stems from the mismatch between the skills and mindset required to hack tests versus what's needed to thrive in a modern economy. Any good test-taker knows that proper study habits have little to do with real comprehension. Instead, most good test-takers focus on trying to memorize the answers to the questions that are most likely to appear on the test. As Paul Graham explains it:
If tests truly were tests of learning, things wouldn't be so bad. Getting good grades and learning would converge, just a little late. The problem is that nearly all tests given to students are terribly hackable. Most people who've gotten good grades know this, and know it so well they've ceased even to question it.
Success in a modern economy is much harder to hack. A founder who wants to build a successful startup cannot trick customers into giving them money. The only way to build a sustainable and successful company is to create a product that customers truly value.
While there are some areas of the economy where the "hacking tests" still pays off, this strategy will get less valuable as "the link between work and authority erodes." Every year it gets cheaper to learn new skills, build products, and create content. As gatekeepers progressively lose their power to pick winners, based on arbitrary rules, it will be those who are capable of creating real value that come out on top.
Community
Shoutouts
*Header image credit: Ranganath Krishnamani