Handling the heat – what it takes to run an independent restaurant in 2020
🗝 The Keyring // 004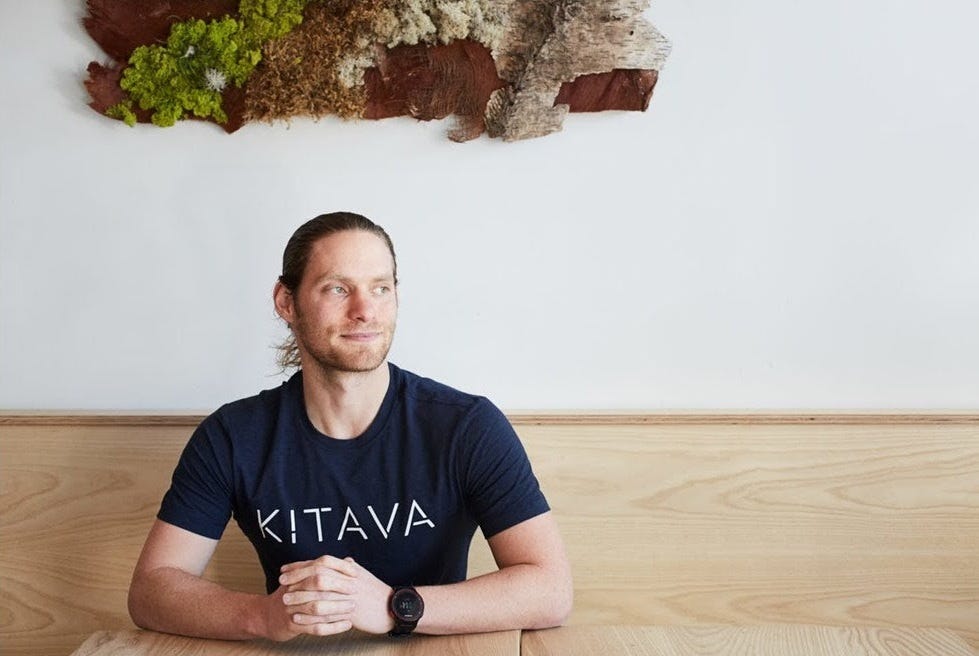 Hey there, I'm Nick, and you're reading The Jungle Gym – a newsletter to help you think clearer and work smarter.
Each month I publish 2 newsletters with different formats. This format is 🗝 The Keyring. It features exchanges with domain experts about the tools, methods, and frameworks they use to make progress in their careers
If you're new here, check out this introductory post to learn what The Jungle Gym is all about.
And, if you aren't yet a subscriber and want to sign up for future issues, enter your email here:
---
Between navigating labor costs, vendor management, and arcane regulations, running a healthy independent restaurant is tough in any year. But it takes something truly special to survive a year like 2020.
That's why I was excited to learn from Bryan Tublin, owner and co-founder of Kitava, about the mindsets and habits that have helped him steer his business through the chaos of the year.
Bryan also offers actionable advice for anyone who's considering starting a restaurant, including a curriculum of all the things you should be studying in advance.

So, without further ado…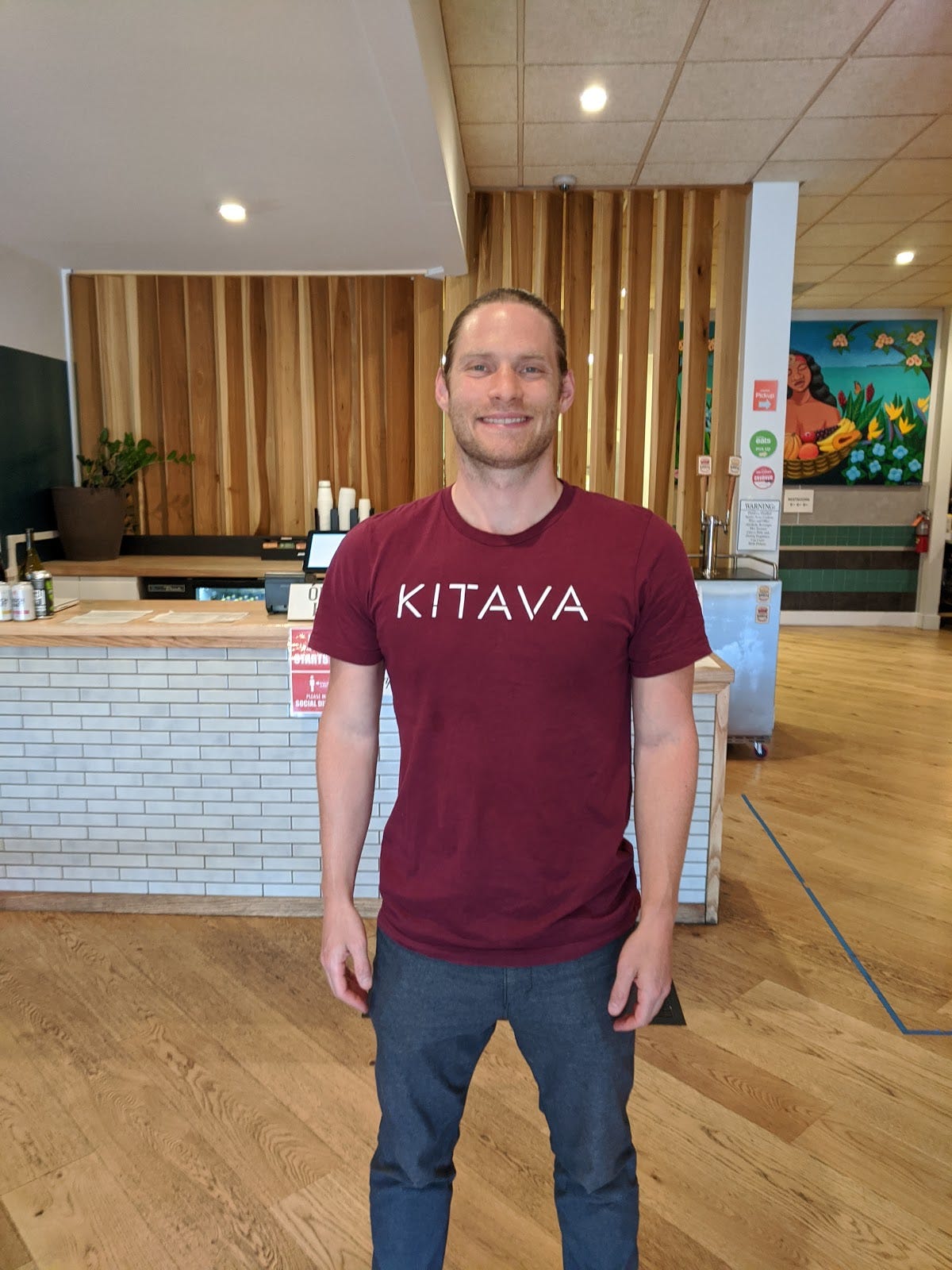 Introduction
Explain your job to me like I'm five.
I run a San Francisco-based restaurant called Kitava that makes food for people who want to feel good.
How did you wind up starting a restaurant?
Food and health were interests from a young age. But it wasn't until I changed my diet, to recover from chronic pain, that I realized the impact food could have on my well-being.
After adopting an anti-inflammatory diet and seeing great results, I enrolled in a holistic nutrition trade school called Bauman College. Learning about nutrition opened my eyes both to how terrible our mainstream food system is, and how hard it is for ordinary people to find healthy food. That's when I decided to shift my career to focus on solving this problem.
That led me to team up with my friend Jeff Nobbs, to create Kitava, a restaurant which we currently operate out of a former McDonald's in SF's Mission District.
What's special about Kitava and why aren't there more restaurants like it?
Kitava focuses on making food with ingredients that support health, and avoiding ingredients that don't. We plan our menu using the latest biochemistry research, scientific data, and common sense precedents based on historical human consumption. For example, we use:
Healthy cooking fats like 100% extra virgin olive oil, coconut oil, and sustainable palm fruit oil, unlike most restaurants that use cheap, highly processed vegetable oils (like soybean, canola, rice bran). You can read more on the dangers of low-quality oils here, here, and here.

High-quality animal proteins from reputable local ranchers and farmers. Not only are these options better for health, but they're more humane and environmentally friendly than the factory-farmed alternative.

Organic vegetables as often as we can. We're not 100% organic yet, but we'd like to be. To make decisions about which veggies to buy organic we follow the Dirty Dozen / Clean 15 guidelines provided by the Environmental Working Group.
We take on the extra cost of these products because we believe it's the right thing to do. It also assures guests that we're thinking about these things, so they don't have to.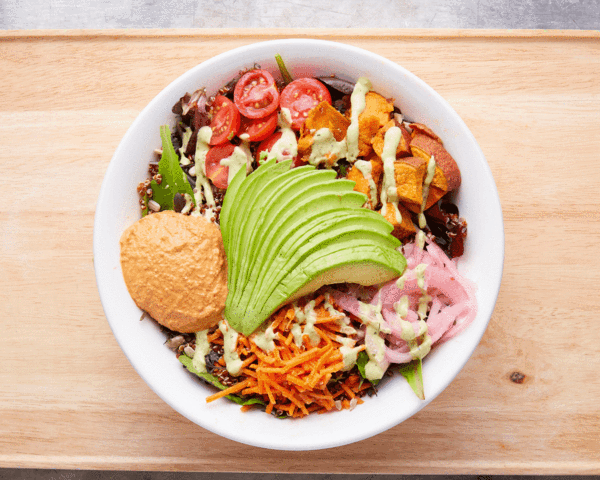 What it takes
How has owning a restaurant shaped your mindset?
A restaurant owner has to expect that something might go wrong every day– because inevitably something will. We're prepared to deal with chaos, so when something unexpected happens our mentality is to quickly find the solution. There's no time to mope or complain -- put out the fire! Then work to adjust your processes so that particular mistake doesn't happen again. Easier said than done, but that's the mentality a restaurant owner needs.
Since there are so many chances for things to go awry, a (good) restaurant owner documents procedures with a fine level of detail. We can't assume a new cook is going to know how to make our best selling dish. The recipe needs to be documented, the cook must be trained, and the plating procedure needs to be as simple and straightforward as possible. We try to make every process so easy that a high schooler can do it; because sometimes a high schooler has to!
What's it like running a restaurant given everything going on in the world right now?
How you handle difficult situations not only builds character, it reveals it.
Running a restaurant is always tough. Strange and unexpected things happen all the time– it's just the nature of the beast.
With that in mind, my situation is no different than anyone else dealing with the events of this year. In some ways, I feel fortunate because Kitava's model was easy to adapt for delivery and takeout.
Lots of others have it much worse. Full-service restaurants are crumbling– which is heartbreaking to see. My fiancé works in hospitals and has had to deal with situations I couldn't imagine facing. I'm a white male in my early 30's with a small financial safety net. I have a lot to be thankful for.
I feel very motivated to take care of the 30 or so employees who rely on Kitava to support themselves and their families. I also believe it's my responsibility to empower and uplift people who need support, especially employees, friends, and people from marginalized communities.
We're all doing the best we can, and I'm no different. My hope is that people embrace the importance of local small businesses because we truly are the fabric of every community.
What are some mental models or frameworks that you use to make hard decisions?
I think a lot about how I can leverage my time to create more value for the business.
Early on, I fell into the trap of trying to do everything myself. I got so stressed out that I developed shingles. I knew something needed to change.
My mindset shifted from trying to solve every problem myself, to asking "How can I run the business and still maintain my personal health and wellbeing?" This has resulted in asking myself a series of questions when planning my work:
What are the highest leverage ways I can spend my time?

Which tasks can I outsource, either internally or externally?

How can I set the team up for success without being physically present?
Finally, I've put a heavy emphasis on writing things down. If something isn't documented in a restaurant, it's probably not going to get done. Spending time up-front documenting processes has allowed me to hand off key activities to other people on my team.
The Day to Day
How do you manage your time?
It's hard to keep a calendar when you're running a restaurant. Sometimes I'll have the most productive day planned -- three hours of deep work, a nice lunch break, 3-4 lower-level tasks in the afternoon, home by 6 pm -- and it all gets blown up when my General Manager calls in sick, some crucial piece of equipment breaks, or our point-of-sale system stops working.
That said, I do my best to:
Schedule important tasks before noon, followed by meetings and other to-dos that require a lower level of mental energy in the afternoon.

Set reminders for recurring tasks, like "email newsletter planning" and 1:1 meetings, because otherwise they won't get done.

Stay on top of my daily tasks in Trello.

Do something physically active every day. Mondays, Wednesdays, and Fridays are my "workout" days; usually weights or bodyweight exercises. On Tuesdays, Thursdays, and Saturdays I'll run, rest, or go for a walk. Sundays I typically take off or go for a hike with my fiancé. I also do at least 100 pushups every day, which you'll notice is on my calendar so I don't forget!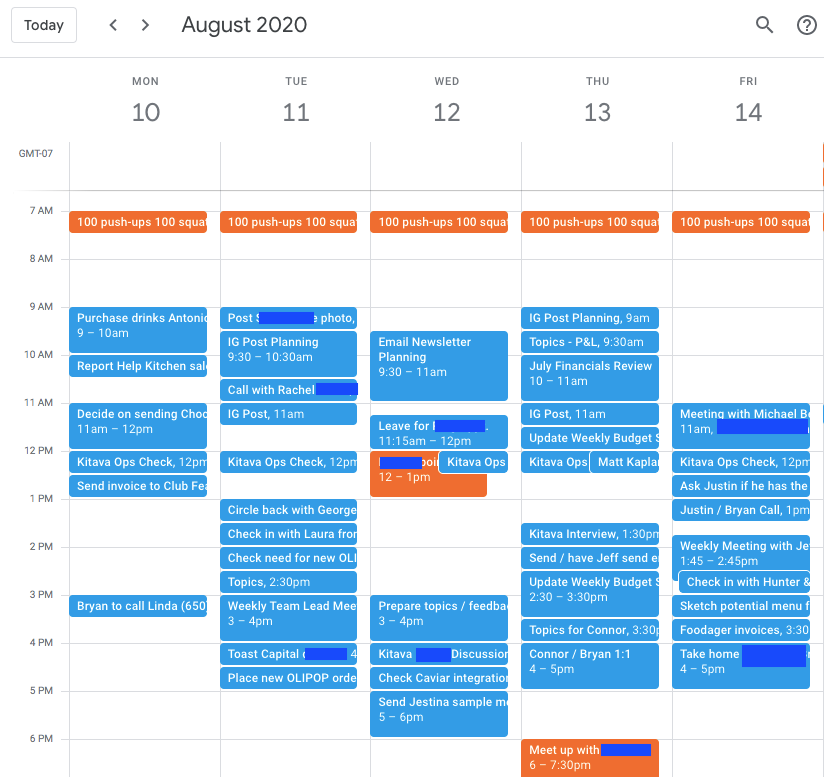 What tools do you use at work on a weekly basis?
Common tools I use weekly include:
What problems that are specific to your line of work do you wish there was a better solution for?
Product sourcing and vendor management.
It's an archaic and insane world, especially if you have high standards for ingredients. Unless you're willing to sacrifice quality, you need different vendors for packaging, produce, animal products, snacks, and drinks. Some are great to work with, some are not. I would love a one-stop-shop for vendors that's super professional and easy to work with.
Following the Path
What advice would you give to someone who's interested in opening a restaurant?
If you haven't worked in a restaurant before, I recommend doing so before opening your own. There's so much you can learn on someone else's dime, so you might as well take advantage of the opportunity!
Once you're ready to open your own concept, invest in hiring a good accountant and lawyer from the very beginning. These may seem like expenses you can't afford, but trust me -- you'll save yourself so many headaches if you have solid financials and cover your legal bases from the start.
Finally, know why you're opening a restaurant. Are you looking to open a single mom-and-pop style joint that you'll work in every day? Do you want to grow and scale a chain? Are you trying to become the next Top Chef? There's no "right" answer, but knowing your why will help you make good decisions.
Let's say that person had 6 months to prepare to be a great restaurant owner– what topics would you suggest they study?
Learn what a successful restaurant P&L looks like. This includes understanding industry benchmarks for labor, food costs, fixed costs, and variable expenses.

Become knowledgeable about setting service standards for guest interactions.

Learn how to cost menu items to achieve your target profit margin.

Understand the core functions of a restaurant and what roles are crucial for your concept to succeed.

Learn about the HR and labor laws in your city. This is super important!

Try to imagine a "day in the life" for every single role in your restaurant. Use this to document a "job scorecard" that outlines key responsibilities and expectations for each role. This will help tremendously with hiring.

Understand the technology and tools you'll need to succeed. This includes point of sale (POS) systems, time tracking software, accounting, staff communication, scheduling, website, online ordering, delivery services, and collaboration software.
Who are three people in your field whose work you admire, and why?
Adriano Paganini - Adriano owns one of the most successful restaurant groups in the Bay Area, Back of the House. I admire how he learned from the struggles with his very first restaurant and used those lessons to create a set of evergreen principles he applies to each new restaurant he opens.

Charles Bililies - Charles simply runs a great business. Souvla is the darling of the SF fast-casual scene– and for good reason. He's shown an ability to create a high-end experience with a very simple product. As a result, he's been able to scale his concept quickly and successfully in one of the most difficult markets in the country.

Danny Meyer - Danny's book Setting the Table is the bible for any service industry professional. He's the godfather of guest-centric service and has defined a set of service-based principles that have helped him build and grow many successful restaurant concepts.
What are three books that have made you better at your job?
Essentialism - Taught me how to focus on what's most important.

Extreme Ownership - A well-written book, and a great mentality for every leader and organization to adopt.

The E-Myth Revisited - Taught me how to think about delegating so I can work on my business rather than in my business.
A big thanks to Bryan Tublin for sharing his insight.
---

If you found this issue of the newsletter valuable, I'd really appreciate it if you could forward it to a friend, family member, or colleague who you think might enjoy it.
Or, if you'd like to share it on one of your social networks, that would be great as well.
– Nick
---
What'd you think of this issue of the Jungle Gym?