Frameworks from a growth leader who helped Samsara scale from Series A – Series F
🗝 The Keyring // 003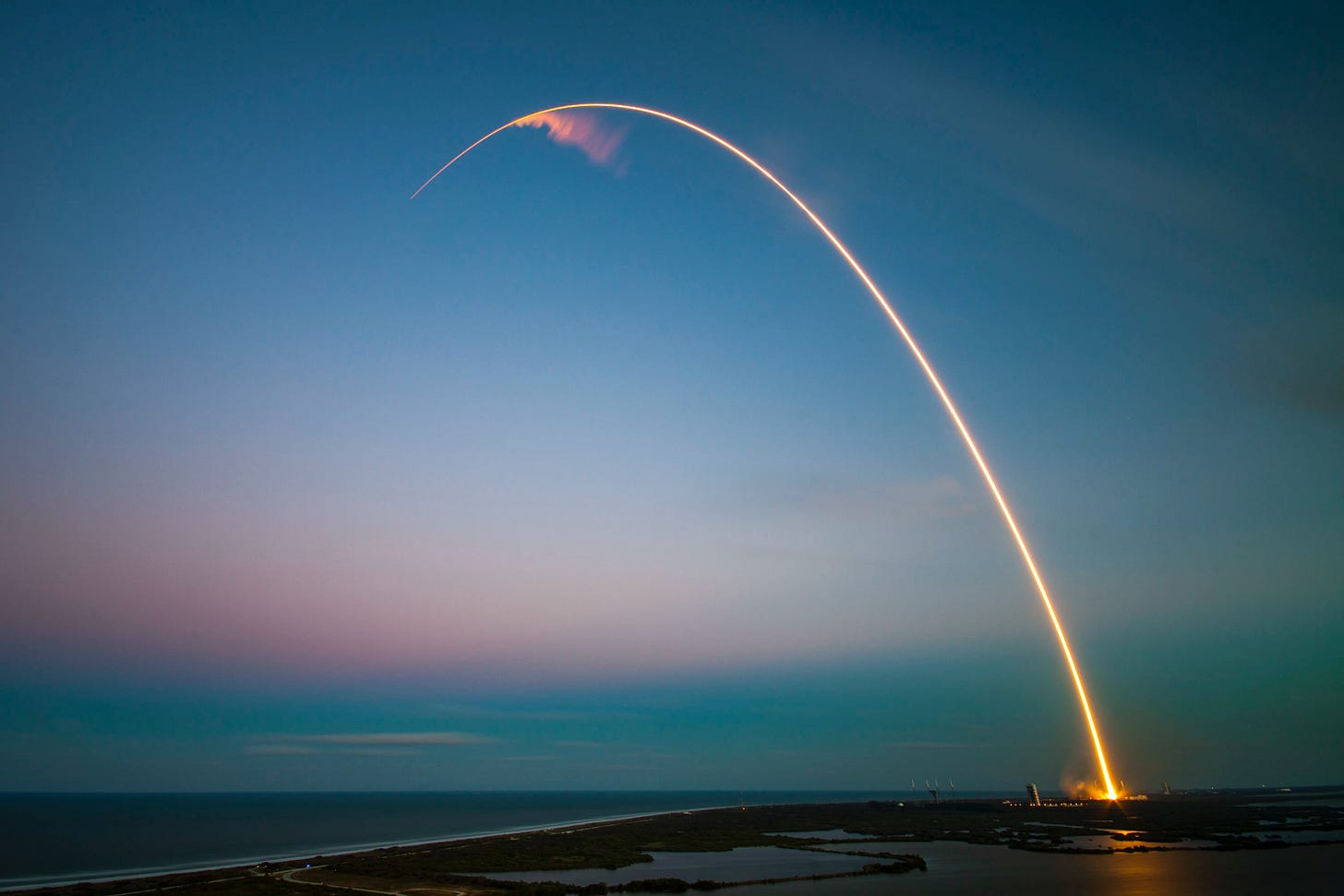 The Jungle Gym is a newsletter to help you think clearer and work smarter.
🗝 The Keyring format features exchanges with domain experts about the tools, methods, and frameworks they use to make progress in their careers (example).
👋 If you're new here, check out this introductory post to learn what this newsletter is all about.
💬 For more frequent updates on what I'm reading and thinking about, visit me on Twitter.
📝 And, if you aren't yet a subscriber and want to sign up for future issues, enter your email here:
---
Max is one of those people who just gets it. Business. The internet. Human systems. Whenever I bring him with a challenge, he knows just the right questions to ask. After digesting my answers, he inevitably suggests something brilliant that I would have never considered.
So, it came as no surprise that after joining Samsara as employee #20 to run growth, he managed to hang on for 4.5 years of hyper-growth (Samsara now has 1400 employees). During that time, he's also successfully scaled himself from a talented individual contributor into a respected leader at the company: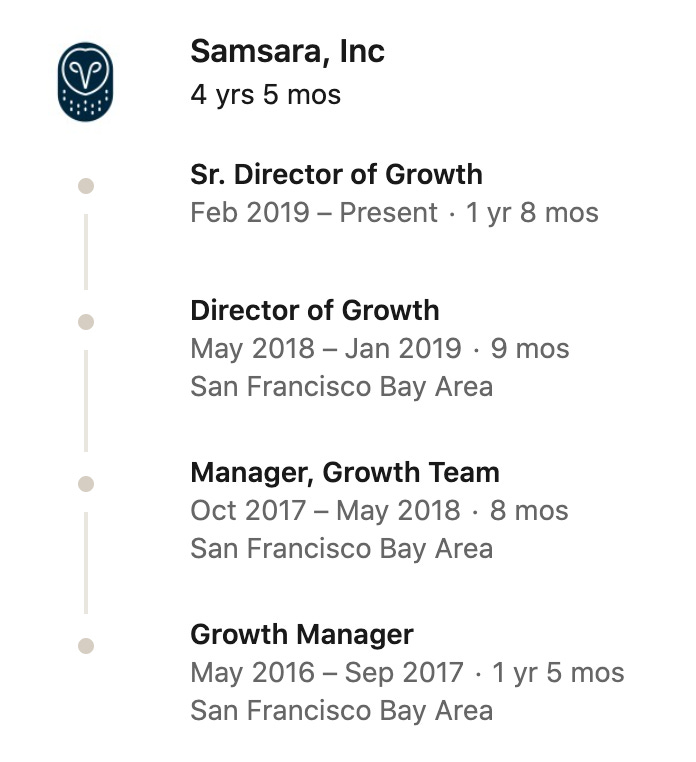 Of course, he's too modest to say all that, but it's worth keeping in mind as Max shares the tools and frameworks that have helped make him successful.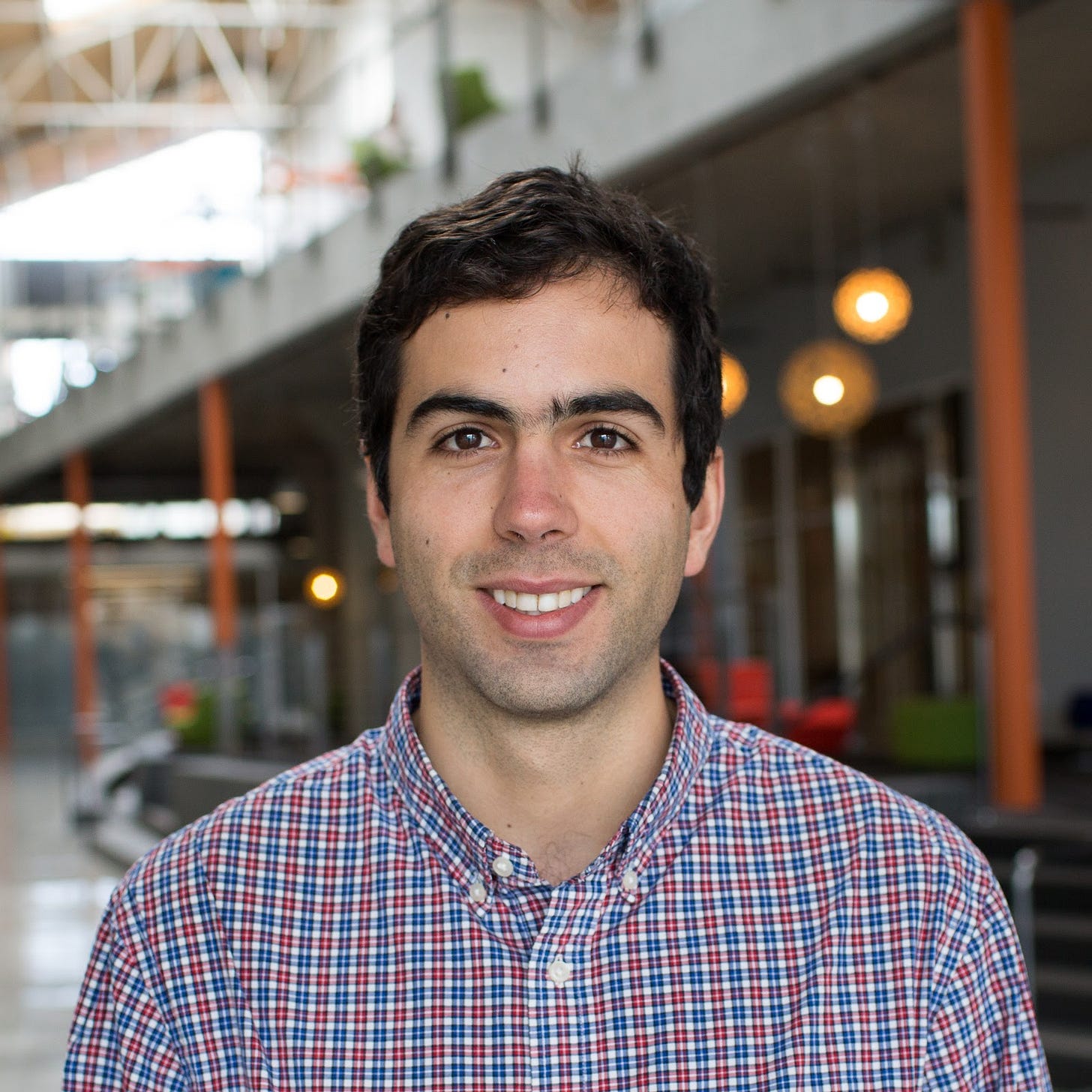 What's your title?
Senior Director of Growth at Samsara
What does Samsara do?
Samsara builds internet-connected sensors that help increase the efficiency, safety, and sustainability of the operations that power our economy.
Explain your job to me, like I'm five.
I'm a data-driven marketer who focuses on finding creative ways to acquire, engage, retain, and expand revenue from customers.
Mind sharing a screenshot of your calendar for this week?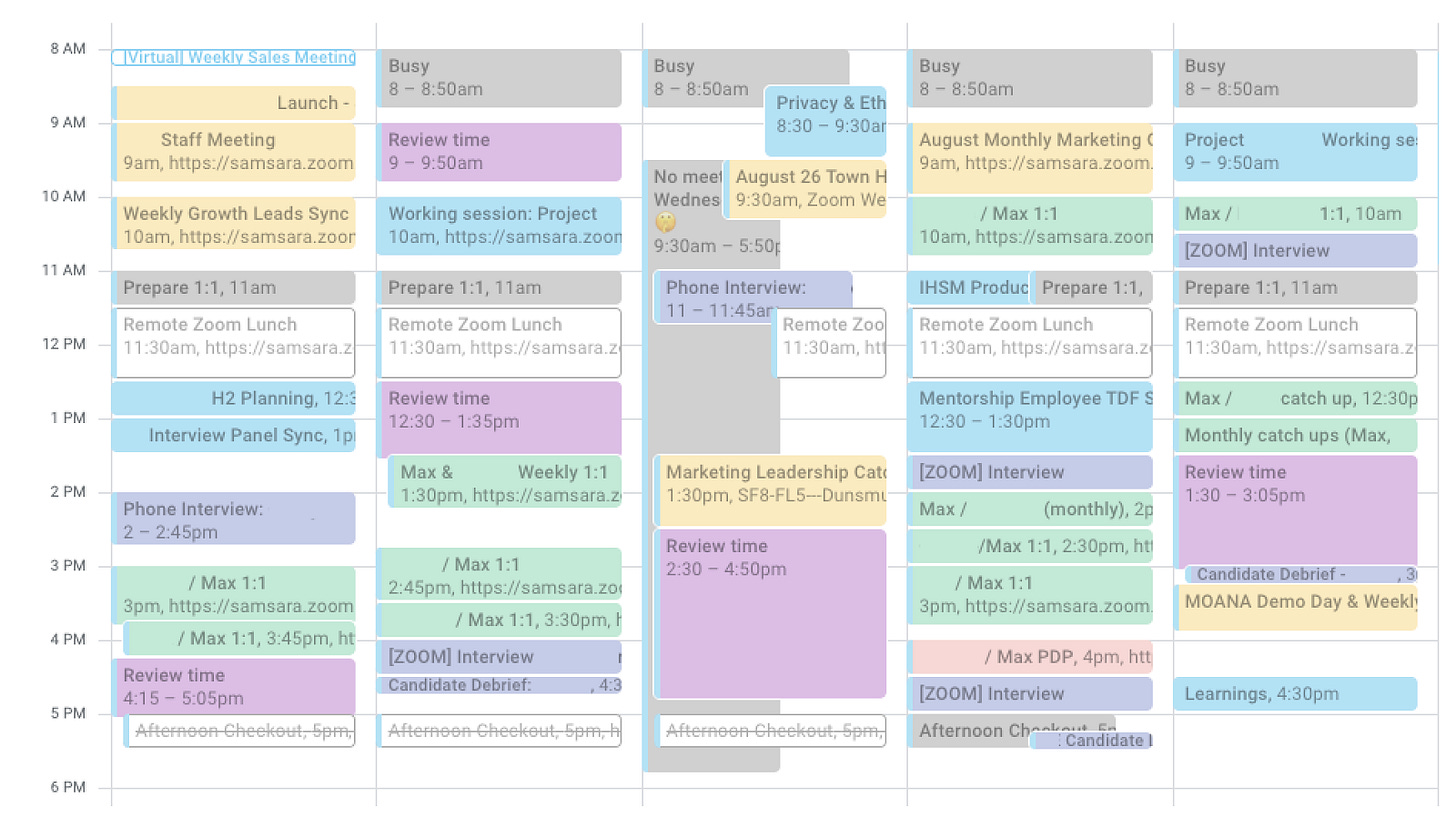 Typically, I spend 8-8:30 am planning the day and keep 5:30 pm and beyond free for uninterrupted thinking or execution time. I try to do no meetings on Wednesday (emphasis on try).
Yellow blocks are for communication and alignment meetings.

Green blocks are for 1:1s

Dark blue blocks are related to hiring
Which parts of your job create the most value?
As a manager, you learn to prioritize the output of your organization. To optimize that output you can't do everything yourself. That's why I try to make time for:
Strategic thinking – defining what the team should work on and why

Coaching and developing people – fundamental if you want to scale the impact of your team

Leadership meetings – allow you to course-correct the work of your team
What are some mental models or frameworks that you use to make hard decisions?
I make it a point to practice first principles thinking, which is a way of dissecting problems into smaller units and questioning the assumptions behind them. It's easily the most useful skill I've developed in my career.
One practical example of how I use it is when I evaluate which projects to prioritize for my team.
To start, I'll calculate the impact of each project by figuring out the expected amount of revenue each project could bring:

I use a similar formula to determine how much effort each project will take. Then I divide impact by effort and calculate the return per hour of work.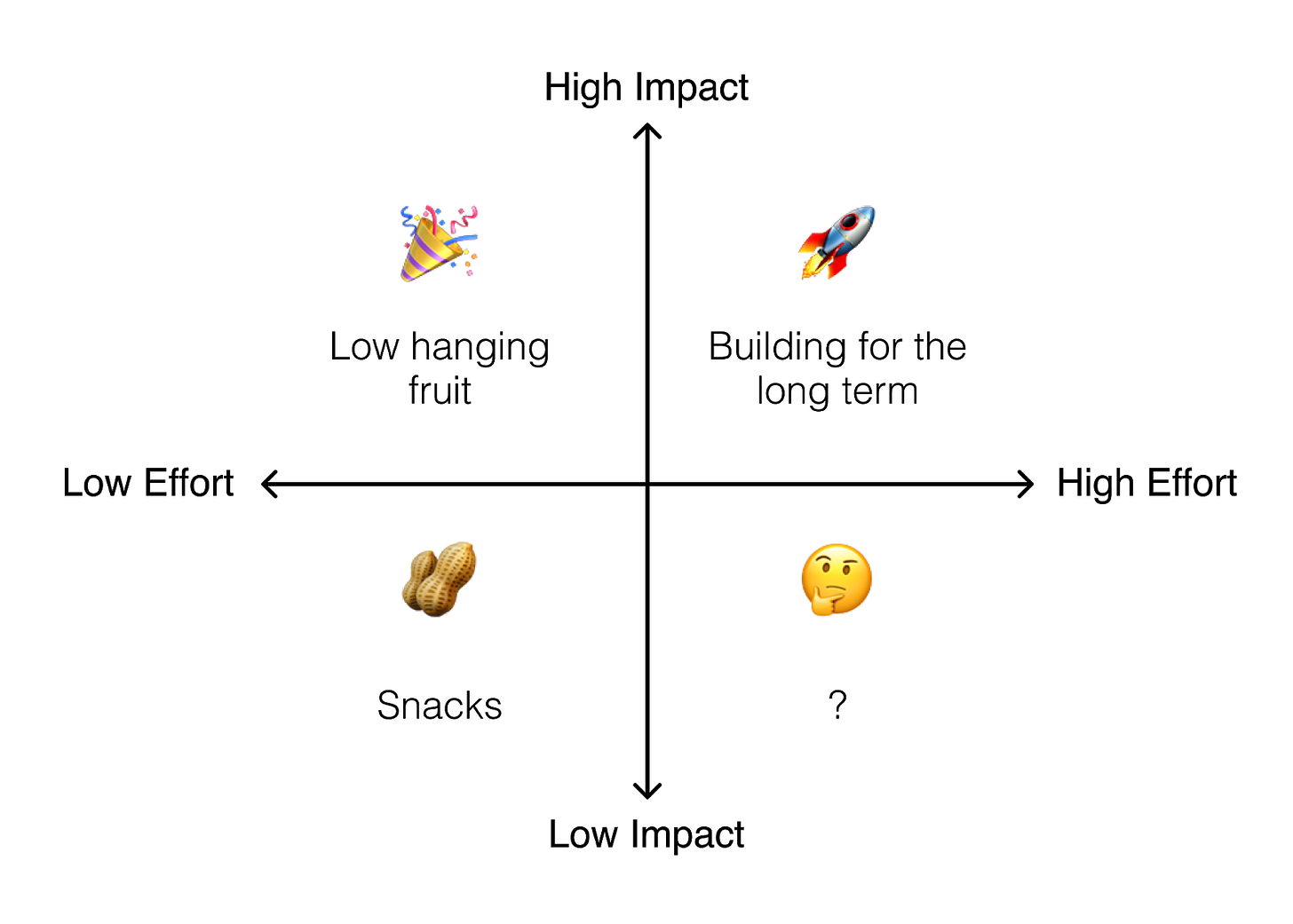 If we're at the point where the projects we're working on have a low return per hour, it's time to get creative and generate new experiments or projects to work on.
What tools do you use at work on a weekly basis?
As the manager of a growth team, I end up using a lot of different tools. Here are the five I interact with most often these days
Note: Max shares the full list of tools he uses at the end of this post.
What's a problem that's specific to your line of work that you want a better solution for?
I've got two:
Webform to demo
Companies spend millions acquiring customers only to see many of them fall through the cracks pre-demo. I'd love to have a system that can help me quickly process leads, make sure they are assigned to sales reps, and track follow-ups.
Attribution
While companies like Bizible or Full Circle can help you understand which initiatives are yielding results, these tools have major limitations in customization. This becomes particularly apparent when you need to expand beyond rule-based attribution (last touch, W-shaped, etc.) or accommodate models by sales segments.
It would be great to have an attribution tool that helped measure incrementality. This is particularly relevant when you scale ad spend, and your customer journey starts getting more complicated. Doing this with Python is cumbersome. I wish there were a better solution out there.
What are the topics you've studied that have made you good at your job?
Growth marketing topics:
Business

Digital marketing (SEO, Paid Search, Paid Social, Referrals, Viral Loops, Email, etc.)

Data analytics

Machine learning

Web development

Product management

Psychology

Design
People management topics:
Leadership

Management fundamentals

Prioritization

Productivity & time management

Communication

Conflict resolution

Crisis management

Negotiation

Influencing others

Feedback

Neuro-linguistic programming

Systemic thinking
Are the playbooks for your job established, or do you find you're creating them as you go?
While I like to study other successful companies, I try to keep in mind that old playbooks can get stale quickly. Your results will also depend a lot on how similar of an industry and customer your company is selling into.
When customer expectations change playbooks also become obsolete. For example, if you're studying a playbook from an ecommerce company, and it was created before Amazon created 2-day shipping, it's going to steer you wrong.
How do growth marketers approach problems differently than people in other professions?
People in other functions often decide what to work on using intuition. But, in Growth, we need to use an analytical process to prioritize which tests to run. 
When there are disagreements, we run tests and use the results of these tests to make decisions.
What advice would you give to someone who's interested in learning growth marketing?
To become a strong Growth Marketer, you need to be good at three things:
1. Build a solid understanding of how the internet works
Start by thinking through a simple Google search:
Why did this ad show up in the first slot?

Why does this URL have UTM parameters, and what do those mean?

What type of information can I get from a user when they land on my website?

What can I do with this data?
Answering questions like these will widen your understanding of what's possible and lead to experiment ideas that can help your company build competitive moats.
2. Have strong business acumen
People with strong business acumen naturally focus on high impact work. They tend to be system thinkers and can handle ambiguity well. Using logical reasoning they can quickly dissect a problem into smaller units and focus their energy on what will have the greatest impact.
3. Learn design, psychology, and engineering
Building skills in domains like these can differentiate you. I recommend learning basic engineering fundamentals (e.g., learn to code a website with a basic backend from scratch), as well as researching user empathy and cognitive biases.
What's your advice for new leaders?
You're going to make lots of mistakes. Be okay with that.

Read books and learn from others, but recognize that nothing can prepare you for the day a global pandemic hits the world.

If you wait until you have 90% of the data to make a decision, you're probably too late. Stay humble, listen to different perspectives, and make the call.

Read Proverbs. They are great a source of wisdom that transcends time.

There are things you can control and others that you can't. Focus on what you can control and ignore the rest.
Who are three people in your field whose work you admire, and why?
Guillaume Cabane – His work at Drift shows what you can do when you put engineers with a business mindset to work on marketing problems. G pioneered using APIs to delight customers and provide hyper-personalized experiences.

Andy Johns – When you read articles online, it's hard to differentiate between people who have done the work and people who are just great at talking about it. Andy is both. He was part of the growth teams at Facebook, Twitter, Quora, and Wealthfront (and advised many other companies) and has seen enough where he can write about growth with a broad perspective.

Andrew Chen – It used to be that when you asked experienced marketers how to grow a company, they would all point to PR, billboards, and TV commercials. Andrew played a significant role in changing that. He also shifted the way I thought about marketing and inspired me to pursue a career in Growth.
What are three books that have made you better at your job?
What are the rest of the tools you use regularly?
Collaboration and Communication Tools:
Data & Automation Tools
Advertising Tools
Data Enrichment Tools
Clearbit: form auto-fills, audience segmentation, and contact enrichment

D&B: a good source of truth for the sales database

Zoom Info: find contact information
Email Tools
Analytics
Other Tools
A big thanks to Max Rencoret for sharing his insight.
---

If you found this issue of the newsletter valuable, I'd really appreciate it if you could forward it to a friend, family member, or colleague who you think might enjoy it.

Or, if you'd like to share it on one of your social networks, that would be great as well.
– Nick